2019 Leaders
Head Girl
Maioha Haimona-Ngawharau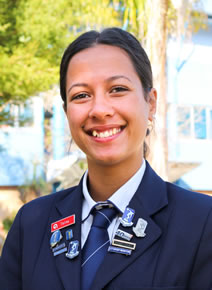 E ngā mana, e ngā reo, e ngā karangaranga maha, tēnā rā koutou katoa. Ko Maioha Haimona-Ngawharau tōku ingoa me he uri tēnei nō ngā iwi ō Ngāti Ranginui, Ngāti Awa, Ngāpuhi me Te Arawa.
Kia Ora tātou, as a young Māori woman, a keen sports player and a lover of the arts, TGC has served as my nichè since year 9. This year I have the absolute privilege to serve as the Head Girl of Tauranga Girls' College.
In this role, I have decided to focus on strengthening unity within us wahine here at Tauranga Girls' College by building and developing school culture.
With these intentions in mind, I have felt impressed to use the proverb "Ehara taku toa i te toa takitahi, Engari he toa takitini" as my vision for 2019. This translates to "Success is not the work of one, but the work of many".
I am excited to work with other awesome wahine this year, especially my 6 Deputy Head Girls and their prefects; with the hope we can implement this whakaaro of unity and togetherness here at Tauranga Girls' College. I know without a doubt, that if we do the mahi we will reap its benefits.
He toa takitini, success is the work of many.
Nō reira tēnā rā koutou katoa.
Deputy Head Girl of Learning
Akira McTavish-Huriwai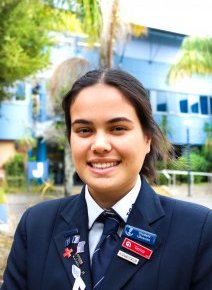 Ko Akira McTavish-Huriwai tōku ingoa nō Waikato ahau ko Tainui tōku iwi.
Kia Ora everybody, my name is Akira and I am honoured to be your Deputy Head Girl of Learning for 2019. It's so exciting to be in a role that encompasses what I am passionate about; environmental issues, mental health, hauora and maximising potential through education. My vision for this year is 'Knowledge is Power' so through providing each and every student with knowledge surrounding the environment, mental health and the amount of opportunities available - each student will therefore be empowered.
I am very lucky to have an amazing team of prefects working alongside me this year: Maddison Axeby (Well-Being Prefect), Holly Stephens (Technology Prefect), Hannah Evans (Technology Prefect), Amy Earles (Kaitiakitanga Prefect) and Ella Westenberg (Kaitiakitanga Prefect).
I have absolutely loved my time at this College, from being involved in volleyball and basketball to production and United Nations as well as various committees, so I am very thankful that I am now in a position where I can give back to it and its students. We have heaps of new, fun and exciting things planned to make 2019 one of our best years yet!
If you see me around school come and say hi!!
Nō reira,
Akira
Deputy Head Girl of Sport
Abbie Mortimer
Tēnā koutou katoa, ko Abbie Mortimer tōku ingoa
Kia Ora everyone, my name is Abbie Mortimer and I have the privilege of serving as the Deputy Head Girl of Sports at Tauranga Girls College for 2019. I have the pleasure of working with the sports prefects Eloise Sharpe, Holly Topp, and Minardi Daniel as well as with my support teacher Kaye Barnett. It is an absolute honour to be working beside these incredible women as well as the Head Girl and other Deputy Head Girls, and I am beyond excited for the year ahead.
Ever since I stepped foot inside this school I was struck with the abundant opportunities that it provided. So now, in my final year here, I with the help of the rest of the leadership team, would like to ensure that girls are equipped with the chances to seize opportunities to maximise their potential.
With so many ideas already being put into play and an awesome team of girls, I have no doubt that 2019 will be a year to remember.
Noho ora mai
Deputy Head Girl of Arts
Emily Newbury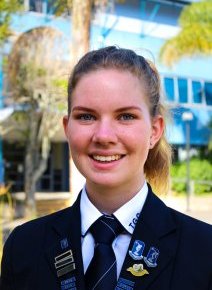 Tēnā koutou katoa, ko Emily Newbury tōku ingoa.
My name is Emily Newbury and I'm lucky enough to be serving as the Deputy Head Girl of Arts. This year I have the pleasure of working alongside a team including the Performing Arts prefects; Chris Bae, Leka Smith and Jessie White, the Visual Arts prefects; Rebecca Kneale and Piper Van Rinsvelt, and the Written Arts prefects; Kasey Bennett and Olivia Summerville.
Whether it be for an upcoming singing competition or the school production, you're most likely to always find me in one rehearsal or another.
The arts has allowed me to grow into the person I am today, and I hope that this year I can help other girls at TGC to find their passions, wherever they might lie.
After having looked up to the student leaders from previous years, I feel incredibly privileged to be able to give service back to Tauranga Girls' College, and our community, in a role that encompasses what I am so passionate about. With some exciting plans and a wonderful team of girls alongside me, I can't wait to see what the rest of 2019 has in store.
If you see me around, whether it be at a rehearsal or just walking through school, please feel free to come and have a chat!

Nō reira tēnā rā koutou katoa
Deputy Head Girl of House Spirit
Rachel Weston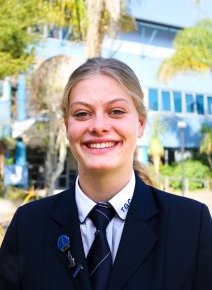 Tēnā koutou katoa, ko Rachel Weston tōku ingoa.
Kia Ora everyone, my name is Rachel Weston and I have the privilege of being the Deputy Head Girl of School Spirit at Tauranga Girls' College for 2019. I will be working alongside the house leaders of our 4 houses, who in fact, have already done an amazing job at encouraging our school at Athletics day and Swimming sports. The house leaders are; Zoe Lankshear and Kaitlyn Morrell (Mansfield), Zoe Bates and Caitlin Nalder (Rutherford), Meagan Warren and Courtney Ryan (Freyburg), Megan Howard and Keilani Worthen (Batten).
Since coming to Tauranga Girls' College in year 9, I was amazed at all the diverse opportunities that our school offers and I want everyone to be able to give anything a go, wherever their passions lie.
For me my passions lie in hockey and participating in anything possible. It is amazing to be able to give back to the community and the school that has helped grow and shape me into the person I am today.
I know 2019 will be a banger of a year and I'm so excited to share it with all of you! So if you see me around school, or on the hockey turf, don't be afraid to say hi or ask me any questions!

Nō reira tēnā rā koutou katoa.
Deputy Head Girl of Cultural Diversity
Akuira Haimona-Ngawharau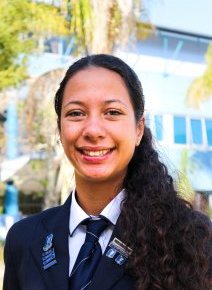 E ngā kaipānui, tēna koutou katoa. Ko Akuira Haimona-Ngawharau tōku ingoa, he uri tēnei nō ngā iwi Ngāti Ranginui, Ngāpuhi, Ngāti Awa me Te Arawa.
It is with great honour to introduce myself as the Deputy Head Girl of Cultural Diversity for 2019 at Tauranga Girls' College.
My heart is full and excited for the coming year and to be able to help build on the Cultural Diversity within Tauranga Girls' College. This year I have an amazing team of wahine to work alongside; such as our Kaupapa Maori Prefects, Sela Tupou and Kiri-Lee Delamere-Ririnui; International Prefects, Jessie Huang and Christine Kim, and brand new Pasifika Prefect, Ofa Afu.
It is my dream to build cultural awareness through our Kura. I plan to do this by providing events and opportunities for our girls to express who they are, and allowing them to share it with all the students at TGC; building whakawhanaungatanga or a sense of belonging within our school community.
With the help of my committees and student's voice, I also intend to make necessary changes at our school that will enable ubiquitous cultures, such as the Māori culture, to blossom.

Culture is so important, and so is diversity. Over the years at Tauranga Girls' College, I have learnt that being different is key. Especially during High School, standing out and being different can seem like a difficult and daunting thing to do. At Tauranga Girls' College, I want to encourage and nourish our girls' abilities to be creative, courageous and to do something different! Everyone has something to offer, and everyone can do that in different ways. Heoi, e ai ki te whakatauki: Nā tō rourou, nā taku rourou, Ka ora ai te iwi, With your basket, and my basket, the tribe will succeed.
Tihei Mauri Ora!
Deputy Head Girl of Communication and Publicity
Lily Alton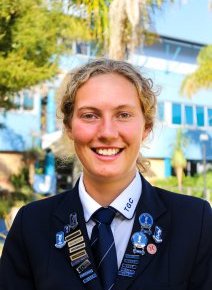 Tēnā koutou katoa,
My name is Lily Alton and I have the honour of being Tauranga Girls' College's inaugural Deputy Head Girl of Communications and Publicity. Working alongside me we have the BOT Student Rep; Hannah Rose, and the Communications and Publicity prefects; Ella Waterreus, Holly Ryan, Cate Belton, Natasha Davies and Jasmine Nash. These girls are all amazing, so I am looking forward to taking on this busy year with them by my side.
It is such an amazing opportunity to be given this role since my time at TGC has been spent admiring the student leaders that have come before me. So to now be in a similar position to those girls who I looked up to feels pretty special!
Outside of school, my life pretty much revolves around Surf Life Saving. Whether it's training during the week at Mount Maunganui, lifeguarding on the weekends, or traveling the country for racing, I'll be on the beach! It's amazing that I can give service to the community, at the same time as doing a sport that I love and hang out at one of the best beaches in New Zealand every day.
If you see me anywhere, feel free to come and say hi and have a chat, I would love to meet you!
Nō reira tēnā rā koutou katoa.
2019 Committees
Kaupapa Maori Committee
Kiri-Lee Delamere-Ririnui & Sela Tupo
Our Kaupapa Maori Committee is about acknowledging,respecting and sharing our Maori Language, heritage and culture among all students/akonga and staff. With the help of our amazing committee we will be organising Maori activities such as Tuakana/Teina,
Te Ara Poutama, wananga, Kī o Rahi Tournaments and celebrating Maori language week within our school community. These activities help build a sisterhood, family, and unity within our students here at Tauranga Girls' College, because as students, we must work better together,rather than in isolation of one another . As a committee we encourage students of different ethnicities to come along and join our groups, as we love to learn,share and express other cultures.
Pasifika Perspective Committee
Ofa Afu
Talofa lava girls! The Pasifika Club is a group of girls from different island backgrounds who come together to plan events such as cultural dances, primary school visits, breakfast clubs, festivals and fiefia night (cultural night). Our aim is to enhance Pasifika culture within our school community and also to build relationships with one another. I am very much excited and looking forward to this coming year!
International Committee
Jessie Huang & Christine Kim
The role of the International Committee is to welcome the international students, embrace their culture by organising events and activities, as well as encouraging our students to be involved with these activities. Possible events for this year include cultural exchange, international week and multicultural shared picnic. Please look out for our events throughout the year!
Communications and Publicity Committee
Cate Belton, Natasha Davies, Jasmine Nash, Holly Ryan, Ella Waterreus
Here on the communications and publicity committee we do things a little bit differently. Each of us works alongside one of the deputy head girls, helping them to communicate their messages to the school. We also organise articles for the school newsletter, take photos of the involvement shown around the school, and throughout the year we'll be assembling the Tauranga Girls' College magazine. A goal for us this year is to start up a student centred newspaper, published by students, for students to read and enjoy- so keep an eye out!
Written Arts Committee
Kasey Bennett, Olivia Summerville

As the written arts committee we are advocates for all written and spoken arts, poetry, writing club, these include debating, mooting, speech competitions, the school magazine and much more. We've formed a passionate committee of girls and we plan to focus on enhancing the development of the written arts as well as recognizing the many girls who are already heavily involved. We encourage all girls to join in to the many activities we will be running this year.
Performing Arts Committee
Chris Bae, Leka Smith, Jessie White

The Performing Arts committee is lead by your prefects Leka, Jessie & Chris. We encompass music, drama dance and everything in between. Our ambition for this year is to help everyone realise the inner performer within! Along with our fabulous PAC, we will be holding many fun events through the school year and can't wait to see you all there!
Visual Arts Committee
Rebecca Kneale & Piper Van Rinsvelt

The visual arts committee is about the visual arts like Painting, Photography, Textiles, DVC and Design. We are involved in things like fashion parade, arts fest and will be making new events that celebrate the visual arts. Our first upcoming event will be the annual teddy bears picnic with gate pa school which is a favourite among our committee members. This year we plan to increase the amount of activities, competitions and exposure that our girls can get a participate in.
Student Wellbeing Committee
Maddison Axbey
As the Student Well-Being Committee, our aim for the year it to provide a safe, welcoming, supportive and inclusive environment for each and every student at our school focusing mainly on mental health, well-being and hauora. In essence, the purpose of this committee is to create a much more positive and supportive community and atmosphere at our Kura and to spread as much kindness as possible to help all students be their best self.
Kaitiaitanga Prefects
Amy Earles, Ella Westenberg

Passionate about saving the planet? So are we. We are a hardworking group who meet frequently to discuss ideas on how to tackle some of the world's biggest environmental issues from climate change, to reducing plastic waste. We want to get involved in the wider community and spread environmental awareness.
Technology Prefects
Hannah Evans, Holly Stephens
The Technologies Committee is solely focused in two areas of technology within our school: Audio Visual (AV) Technology and Digital Technology (DT). The AV side of this committee focuses on the sound, lighting and projections for the school's prize giving and formal assemblies and productions. The DT side of this committee focuses on providing support to students studying Digital Technology within our school through workshops and support sessions.
Social Engagement Committee
Eloise Sharpe
The social engagement committee organises sports activities and encourages girls to get involved with social sport. Signing up with friends to play social volleyball one afternoon is an awesome example of this! Perfect for people who don't necessarily want to play competitively but still want to be healthy and fit!
Athlete Development Committee
Holly Topp
This committee focuses on the needs of competitive athletes and our aim is to provide our highest achieving athletes with the resources they need to continue to achieve. It is also our focus to create depth within our school sports and think ahead by developing junior athletes.
Taha Tinana Committee
Minardi Daniel
This committee is all about our physical well-being and keeping fit and healthy. Fun activities and events which are easy to take part in will be held before and after school, and lunchtimes too, that girls can join in on. These events could be a dance party, orientation in the gully, zumba and morning fitness trainings.
Batten House
Megan Howard,
Keilani Worthen
This year our aim as Batten house leaders is to increase the involvement of our house members by unity through positive encouragement and communication.The Batten house committee is here to foster a sense of pride and belonging within the batten whanau, And hope we can help our house be passionate about pursuing excellence in all areas of school. Every achievement, big or small will be celebrated. Goooooo Batten!
Freyberg House
Courtney Ryan,
Meagen Warren
Mansfield House
Zoe Lankshear,
Kaitlyn Morrell

Our vision, is to steer away from the stigma of past years of being uninvolved and to instead, create an environment where every year level gets involved. As a committee we aim to create a sense of belonging and seek to shed light on new activities for our Mansfield girls to part take in. Our committee will look to strengthen house spirit through active involvement.
Rutherford House
Zoe Bates,
Caitlin Nalder
Throughout the year, our Rutherford House Spirit Committee wishes to enhance a stronger sense of belonging and an overall increase of involvement for all students whilst having fun. To fulfil this aim, we as the House Spirit Leaders will stand alongside our Rutherford Sisterhood, to create louder chants, an encouraging atmosphere and strong sportsmanship like never before. Go Rutherford!