Mana Wahine
Ehara taku toa i te toa takitahi
engari he toa takitini
My strength is not that of an individual
but that of the collective
Tauranga Girls' College is a place where girls can be strong empowered women. We offer a caring, supportive environment for our girls to learn, develop and realise their full potential.
Pastoral care is an important part of school life.
The tutor teacher is responsible for all students in their tutor class. They provide encouragement, academic learning support, guidance. Relationships are based on respect, fairness, and integrity.
The year level Dean has a complete overview of their level. Deans know that positive relationships are key to a happy school and work to establish a positive working relationship with students and home.
The Year Level Deputy Principal works to lead and develop strong relationships based on the school's values of Respect (Manaakitanga), Participation (Mahi Tahi) and Pride (Mana Motuhake)
Guidance Counsellors provide personal and educational counselling and access where needed to community resources.
Student Health Services provide a service to enhance the health and wellbeing of students and remove any barriers to learning caused by health issues.
The Careers Advisor provides careers advice, careers education programmes, tertiary liaison and pathways support.
Making a difference by leading and helping others
Leadership is both a talent and a skill for development. At Tauranga Girls' College, our young women enjoy many opportunities to embrace and explore leadership and develop skills for future years.
Service and Leadership opportunities extend across a variety of areas including formal roles for our senior students, who are recognised as important role models.
Supporting charities and volunteering service to the local community have long been integral parts of the Tauranga Girls' College ethos. This practice is embedded in the student leadership structures. Our girls support this custom and every year, they find new and increasingly ingenious ways of giving back. Themed mufti days are also held throughout the year to show our support for elected charities.
No matter what the opportunity, all leadership and service roles at Tauranga Girls' College are held by young women.
Emily Newbury (Leader of the Arts), Rachel Weston (Leader of School Spirit), Maioha Haimona - Ngawharau (Head Girl), Abbie Mortimer (Leader of Sport), Lily Alton (Leader of Communication and Publicity). Akira McTavish-Huriwai (Leader of Learning), Akuira Haimona-Ngawharau (Leader of Cultural Diversity)
Year 13 Prefect leadership roles include:
Head Girl
Deputy Head Girl of Learning
Deputy Head Girl of Sport
Deputy Head Girl of Arts
Deputy Head Girl of School Spirit
Deputy Head Girl of Cultural Diversity
Deputy Head Girl of Communications and Publicity
Student Wellbeing Committee
Kaitiakitanga Committee
Techie Committee
Social Engagement Committee
Athlete Development Committee
Taha Tinana Committee
Written Arts Committee
Performing Arts Committee
Visual Arts Committee
House Spirit - Batten Committee
House Spirit - Freyberg Committee
House Spirit - Mansfield Committee
House Spirit - Rutherford Committee
Kaupapa Maori Committee
Pasifika Perspective Committee
International Students Committee
Communications and Publicity Committee
In addition to the traditional Prefect leadership roles, other leadership opportunities are:
Ball Committee
Board of Trustees
Audio Visual Technicians
Librarian
SADD Committee
Sports Team Captain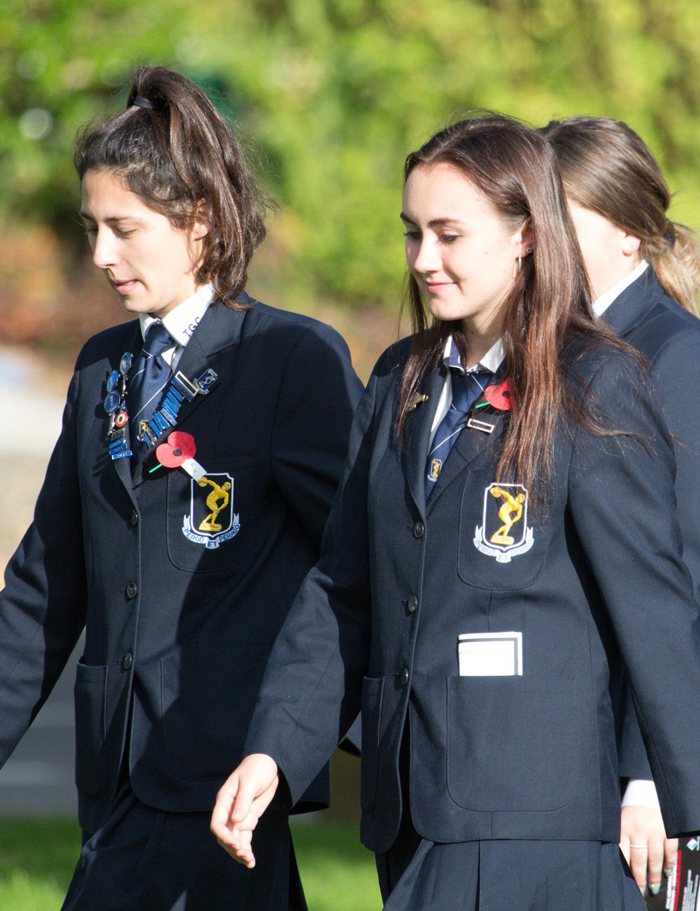 Head Girl
Maioha Haimona-Ngawhara
E ngā mana, e ngā reo, e ngā karangaranga maha, tēnā rā koutou katoa. Ko Maioha Haimona-Ngawharau tōku ingoa me he uri tēnei nō ngā iwi ō Ngāti Ranginui, Ngāti Awa, Ngāpuhi me Te Arawa.
Kia Ora tātou, as a young Māori woman, a keen sports player and a lover of the arts, TGC has served as my nichè since year 9. This year I have the absolute privilege to serve as the Head Girl of Tauranga Girls' College.
In this role, I have decided to focus on strengthening unity within us wahine here at Tauranga Girls' College by building and developing school culture.
With these intentions in mind, I have felt impressed to use the proverb "Ehara taku toa i te toa takitahi, Engari he toa takitini" as my vision for 2019. This translates to "Success is not the work of one, but the work of many".
I am excited to work with other awesome wahine this year, especially my 6 Deputy Head Girls and their prefects; with the hope we can implement this whakaaro of unity and togetherness here at Tauranga Girls' College. I know without a doubt, that if we do the mahi we will reap its benefits.
He toa takitini, success is the work of many.
Nō reira tēnā rā koutou katoa.