Visual and Performing Arts
Celebrating Creativity and Artistic Expression
The Arts are an integral part of Tauranga Girls' College. Participation and excellence are traditional strengths, whether it is performing or producing art for public performances or exhibitions, or simply exploring and developing hidden talents, we believe that the Arts are a vital part of our girls' education.
Visits to or by art exhibitions, dance companies, writer's workshops and theatre performances in the school, ensures our girls get wide exposure to the Arts. On stage or backstage, there is an art and cultural opportunity for everyone.
In Music, there are many groups to be part of, including our award-winning Luminosa Armonia, and Jazz Band. Itinerant music lessons also enable our students to discover or enhance musical talent. In Drama, there is a wide range of opportunities from Theatre Sports to Sheilah Winn Shakespeare festival. Our successful Kapahaka group enables students to learn about and take part in significant aspects of tikanga. The artistic creations by our students adorn our walls and demonstrate the strength of the Visual Arts in our school.
Tauranga Girls'College produce a joint production with Tauranga Boys' College and it is one of the highlights in the year. Beauty and the Beast, FAME, Sweeney Todd, Thoroughly Modern Millie are just some of the productions staged.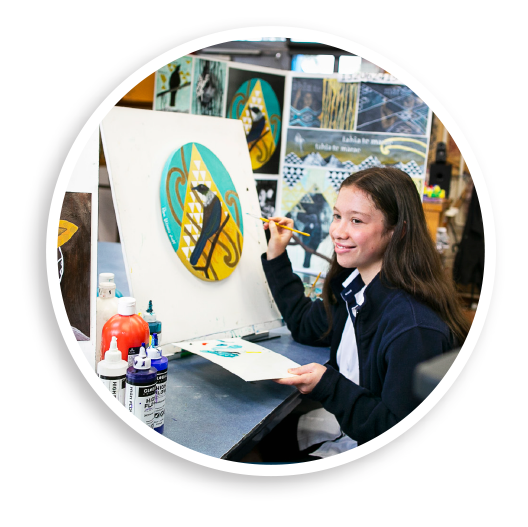 Tauranga Girls' College offers an extensive selection of Performing and Visual Arts. Some of which are: