TERM DATES 2020
23 Jan - 11am Senior Course Confirmation
24 Jan - 9am - 3pm Senior Course Confirmation
Term 1
Monday 27 January:
Auckland Anniversary Day, School Closed
Tuesday 28 January:
Colleague Only Day, no students
Wednesday 29 January:
Years 9 and 13 start at 8:40am with a powhiri
Thursday 30 January:
Year 9 Start at 8:40am, Year 13 at camp
Friday 31 January:
Years 9 and 10 start at 8:40am, Year 13 at camp
Monday 3 February:
Whole school start at 8:40am
Enrolment Checklist
Complete your Enrolment Form.
Complete your Subject Selection Form.
Include a photocopy of your daughter's most recent school report.
Include a photocopy of any examination results if your daughter is enrolling for Year 12 or Year 13.
Include proof of residence in the Tauranga Girls' College zone; a copy of a household account such as a rental agreement, rate notice, electricity or telephone account that clearly shows the address and caregivers name.
Include a photocopy of your daughter's New Zealand Birth Certificate or Passport showing residency status.
Make an appointment for an interview through your contributing school or telephone the College on (07) 578-8114.
Medication form completed and included if applicable.
Completed Internet User Agreement.
Learning Support/Gifted and Talented.
Mobile Adolescent Dental Service (MADS) application completed (if required).
Learning Support
We would like to support your daughter's additional learning needs during her time at Tauranga Girls' College. In order to provide this assistance, we require signed permission from both you and your daughter, along with any supporting information or reports that you are able to provide. We also need your permission to contact her previous school(s) and supporting agencies (e.g. Te Whānau Kotahi or MICAMHS) to ensure that we have full information to develop her support plan.

Curriculum Guide 2020
Information about all subjects offered at Tauranga Girls' College from Years 10 to 13.
The aim of this site is to provide information on the subjects available at Tauranga Girls' College. For each available subject there is the following information; a course description including, an indication of topics that will be covered; credits available in the subject; an indication of associated field trips and workshops and an indication of associated costs.
Subject Selection Forms, Fees & Stationery Lists
Bank Account Details
The college bank account number is 01-0475-0055400-00.
As reference, please quote the student's name and if possible, what payment is for.
Additional details of payment can be emailed to [email protected]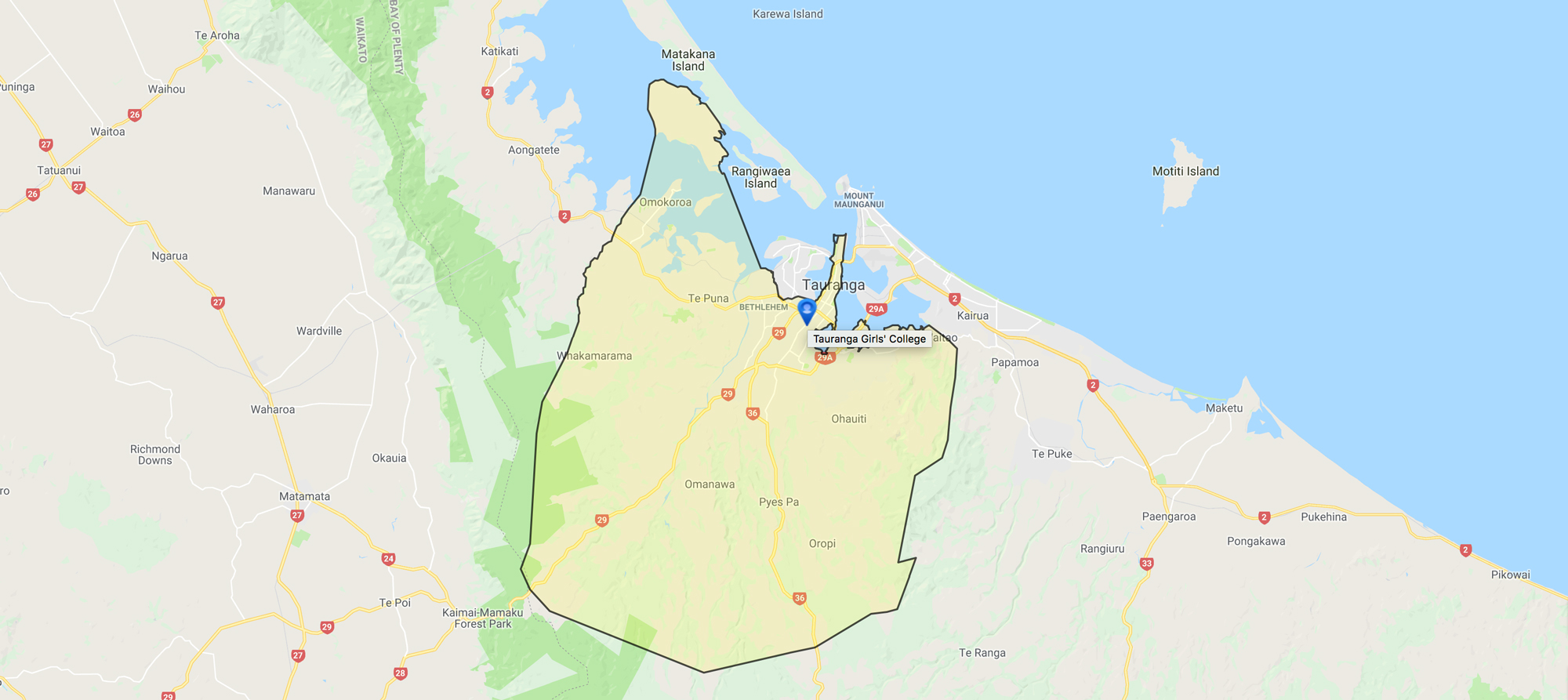 Feeling Unwell
Students who are ill during the day, or who are injured while at school, are attended to in the Health Centre. Students who wish to visit the centre during classes must get a signed Health Centre slip from their subject teacher before leaving the class.
Students who require medication during the day should leave it with the nurse. If a student is too ill to return to class, her parents will be notified to make arrangements for her transport home.
A student may not go home when sick without permission. A student is not to phone or text her parents directly, she must go through the Health Centre and the Nurse will contact her parents.
Absentees
Students must always, on the first day of return to College after any absence, bring a note signed by their parent, stating the reason for and date of their absence and give it to their whanau teacher or Parents can ring the office to inform the school of an absence.
Contact Office / Online Form
TGC Uniform
Every student attending Tauranga Girls' College agrees on enrolment to wear the uniform fully and correctly. The manner in which our students present themselves for daily work reflects their sense of pride. To maintain personal status and high standards for our College, it is important that all our students are well presented.
Stockists:
Clothing:
NZ Uniform Shop, Elizabeth Street
Lenco, Phone: +64 9 837 8373 | Email: [email protected]
Active Schoolwear, Grey Street
Footwear: Active Outdoor Clothing, Hannahs, Number 1 Shoe Warehouse, The Warehouse
Note: Second hand clothing may be available from Active Schoolwear
Uniform Update 24 January 2020 - TGC Shirt low in stock
NZ Uniforms has informed us that they are running out of TGC Uniform Shirts. Some sizes are already sold out. This is beyond the school's control and we apologise for any inconvenience that this may cause. The good news is that TGC has a plan to assist you if your size has sold out
Place an order for a new shirt with NZ Uniform so they can guarantee you will get one when the new stock arrives

Wear the uniform you were wearing last year until the new stock arrives

Buy a 2018 school logo polo shirt for $10 (heavily reduced to support you and us at this time) at NZ Uniform or at Activewear as a temporary measure until your order arrives
If 1-3 does not work for you, and you are a junior you can wear your PE Uniform top (not PE shorts) until your order arrives.
Just a few reminders
The Polo is NOT school uniform - it was phased out 2018. The shirt/blouse is uniform. There are two versions and BOTH are regulation uniform. The 2020 version has the logo on it and slightly different fabric. Both are sold ONLY by NZ Uniform. Shorts are only sold by LENCO.
Trouser options are being explored once school starts. We will have two suppliers in due course (Activewear are not supported by TGC). Check out the TGC Facebook page for more information.
Skirt
Years 9-11 Navy blue / mid blue check polyester (material pattern BPW096) pleated skirt. Knee length. Years 12-13 Navy blue - polyester pleated skirt. Knee length.
Shorts
The new TGC shorts can only be purchased through Lenco either online at www.lenco.space or in store at "Stitch by Stitch", 1344 Cameron Road, Gate Pa. Please note the official short has the TGC logo.
Top
Tauranga Girls' College monogrammed white blouse with blue striped collar. (New in 2019, not polo) All students will wear the blouse in 2020. Years 9 + 13 Students are expected to wear the blouse.
Jersey or Micro-fleece
Tauranga Girls' College, navy blue, striped V-neck woollen jersey or Tauranga Girls' College, navy blue, monogrammed zip front fleece.
Footwear
Plain white or black ankle socks or black pantyhose. Black polishable leather regulation lace-up school shoes or blue or black Roman Sandals in summer (flat sole ballet type lace up shoes are not acceptable).
Jacket
Tauranga Girls' College regulation jacket or Tauranga Girls' College blazer
Scarf
Navy Blue or Black
Formal
Business shirt, Tauranga Girls' College tie.
Physical Education
Navy shorts.
Tauranga Girls' College t-shirt Swimwear (not bikinis) For winter, navy blue tracksuit pants or the regulation tracksuit pants and sports shoes are optional.
Jewellery
A wrist watch, one sleeper or stud in each ear and hair ribbons of school colour are permitted.