Academic Excellence
Pergo et Perago -
Strive & Achieve -
Ma te Kaha e taea ai
Tauranga Girls' College is a place where girls can be adventurous, creative, free-spirited and passionate about learning. We provide an environment where each student is encouraged to strive for individual excellence in all that she does.
Tauranga Girls' College range of subjects and challenging educational experiences are designed to meet and extend the needs of students. Our girls constantly perform admirably when compared with national averages and excel in NCEA gaining outstanding results at all levels, including scholarships. Every opportunity is taken to give students real-world experiences and hands-on tasks as part of their learning. Staff expect all students to extend themselves to reach their full potential and provide an environment where students are not afraid to challenge the status quo.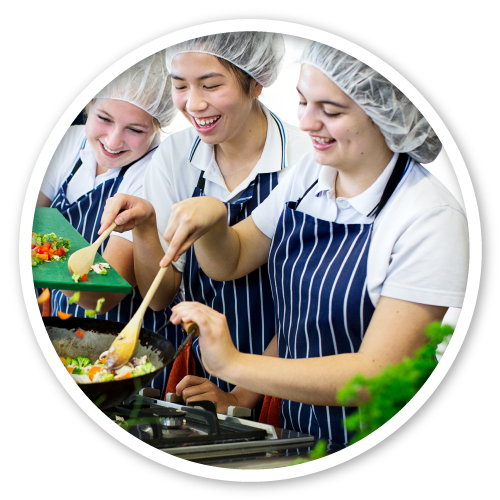 Our Curriculum
Subject Flow
View the full list of subjects available at Tauranga Girls' College from year 9 through to year 13.
Help with subject choices
Detailed information about all the subjects available at TGC for year 9
Curriculum Guide 2020
Information about all subjects offered at Tauranga Girls' College from Years 10 to 13.
View
Environment for Learning
Designed to Support Learning
Nestled in a residential suburb Tauranga Girls' College is a campus with a remarkabe hidden sense of space and tranquility, enhanced by mature trees, cared for grounds and well-equipped learning and teaching areas.
Learning spaces within the College are specifically designed to support learning. Spacious classrooms are wifi equipped, digital devices support collaboration and continuous learning beyond the classroom. We have a high calibre of highly qualitifed and passionate teachers. The learning Hub supports students with Individual Learning Programmes including spaces to support university courses, correspondence papers, and SPEC.
There are many other facilities available to students on campus.
International Student Centre
Te Whare Wānanga o Mereaira
Drama studios
Dance Studio
Media equipment for Journalism, Art and Television production
Keyboard music laboratory with listening posts and recording studio
Digital photography, ceramics bay and pottery kiln
Multimedia studio
Technology and Design workshop with access to electroniuc and CAD technology
A multi-resource library, network, internet link, computers, senior study facilities, private reading areas, careers information centre
A learning support centre for individual tuiton and assistance with learning and study skills
Computer laboratoires with inranet and internet
Web based Careers Programme
Health Centre with a part time registered nurse and first aid officer in attendance
Envirohub
Student Support
Gateway and Trades Academy
For more information on Gateway or Trades Academy click below
Careers Support
For more information on Careers or support click below
Inclusive Learning Support
For more information on our Inclusive Learning support click below