2023 Leaders
Head Prefect
Liv Marshall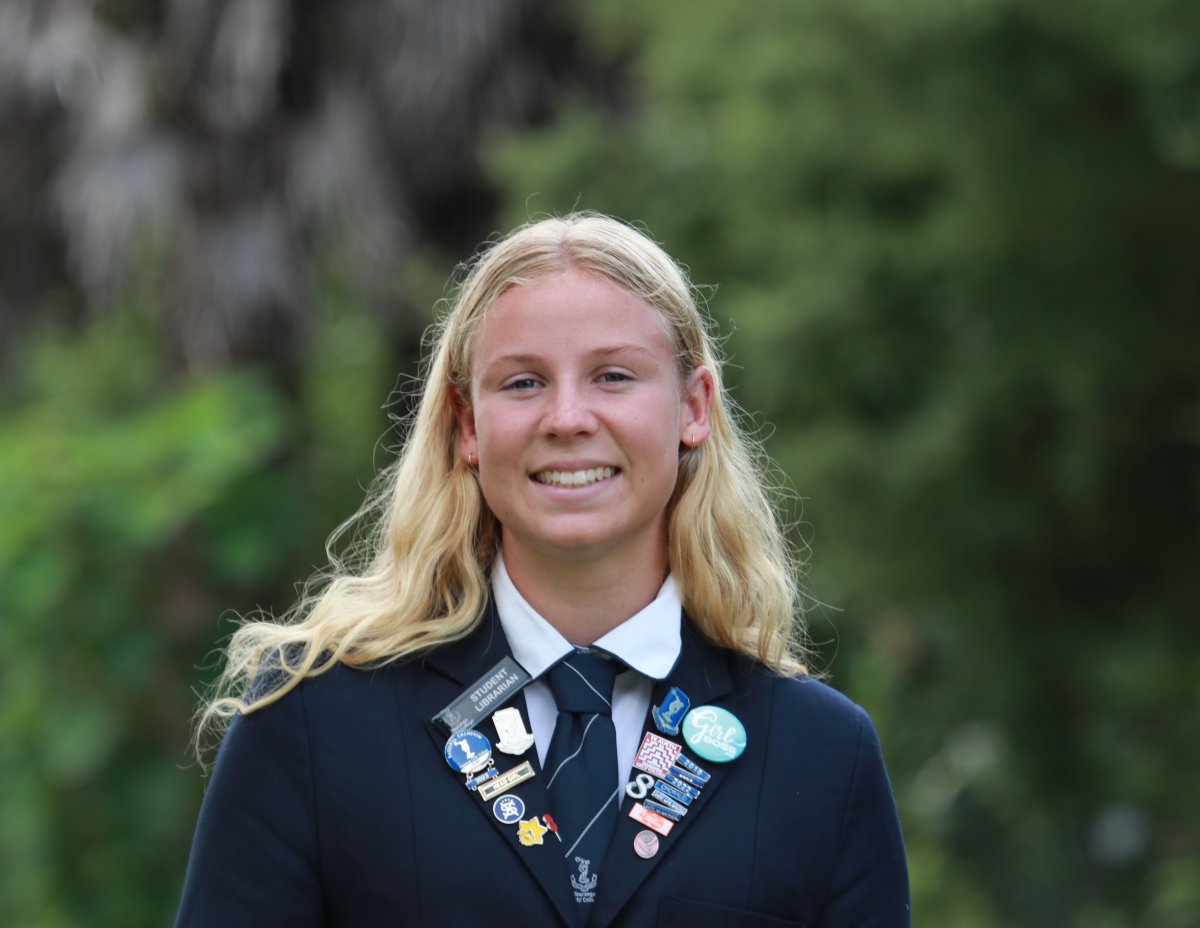 Kia ora koutou, Ko Otanewainuku te maunga, ko Waimapu te awa, nō Tauranga Moana ahau, ko Marshall tōku whānau, ko Liv tōkū ingoa.
I am immensely blessed and privileged to serve as the 2023 Head Prefect for Tauranga Girls' College. I am not only grateful to have this role but to work alongside the most incredible team of staff and students, including the seven Deputy Head Prefects who are part of Kaitiakiawhina: Sunny Davis, Sara Esterman, Honey Cooney, Bree McTavish-Huriwai, Sarah Smith, Blessing Pasi, Maia Kahura; and our team of compassionate Prefects.
The past four years at Tauranga Girls' College have been a blast. Tauranga Girls' College has played a fundamental part in shaping me into who I am today, allowing me to feel confident in myself and discover and pursue my passions. I have aimed to be involved in every area of school life - everything that's been thrown at me I have had a go at, and my involvement in our kura has allowed me to connect with others around me. Fostering relationships with others will enable me to gain knowledge from them and their experiences, creating a diverse and inclusive environment where we can all learn from each other.
Because I have experienced significant involvement within our kura, my 'why' is to provide others with the same experiences that I have been so lucky to have and allow them to flourish as a member of our kura. I hope that everyone can find the same sense of fulfilment and a passion of their own that drives them to get up in the morning to aspire to be the version of themselves that they are most proud of. No matter what someone aspires to be, I want everyone to have the opportunities that allow them to make the most of their time at Tauranga Girls' College and to experience growth in whatever diverse passions they desire.
My involvement has bred a love for connections and has empowered me to make an impact to help others and create turangawaewae - a sense of belonging at our kura for all. Make memories, and don't forget to smile.
Nō reira, tēnā koutou, tēnā koutou, tēnā koutou katoa.
Deputy HP - Learning
Sunny Davis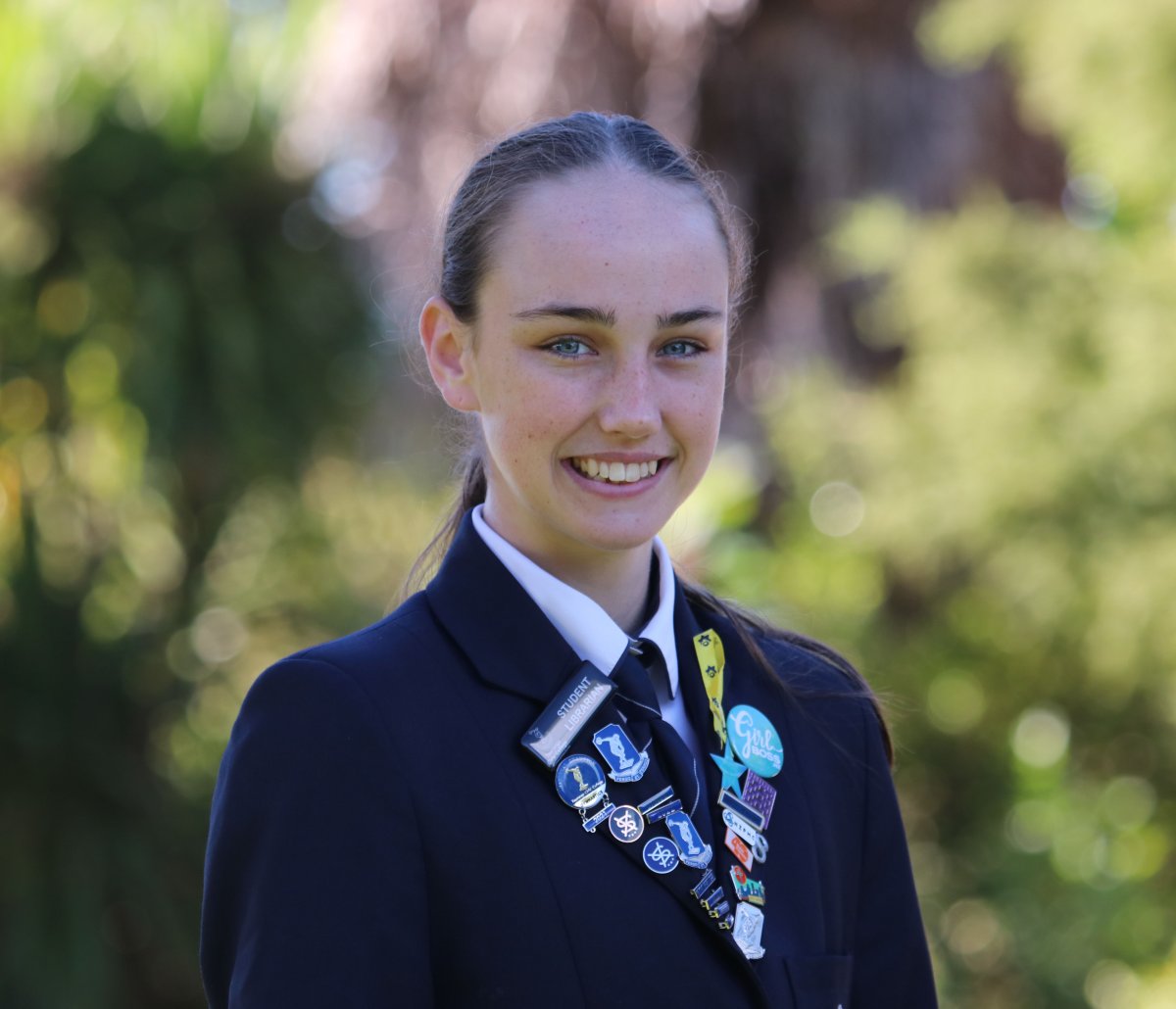 Kia ora Koutou katoa, ko Mauao te maunga, ko Tongaririo te awa, nō Tauranga - Moana ahau, ko Davis tōku whānau, ko Sunny tōku ingoa.
My name is Sunny Davis - I am immensely grateful and honoured to be your Deputy Head Prefect of Learning for 2023. Through my years at Tauranga Girls' College, I've realised that learning doesn't just happen within the classroom. Our kura provides many learning opportunities ranging from tutoring, oratory, debating, celebrations (such as an Easter egg exchange) and community service events. Our events often provide moments of happiness across the school.
I am excited to have an incredible team of six learning prefects to work alongside this year: Maya Whitley and Charlotte Wilde, your student well-being prefects; Nandini Saily and Kyra Addison, your community prefects; and Nancy Yang and Grace Hutchinson, your Kaitiakitanga prefects. Together we will create learning opportunities that allow Tauranga Girls' College learners to make a positive impact.
I'm looking forward to giving back to our Tauranga Girls' College community and encouraging ākonga to make the most of all opportunities. Implementing new ways of learning whilst promoting an environment where everyone can excel.
Let 2023 be a year where we embrace learning to the fullest. After all, life never stops teaching.
Nō reira, tēnā koutou, tēnā koutou, tēnā koutou katoa.
Deputy HP - Arts
Sarah Smith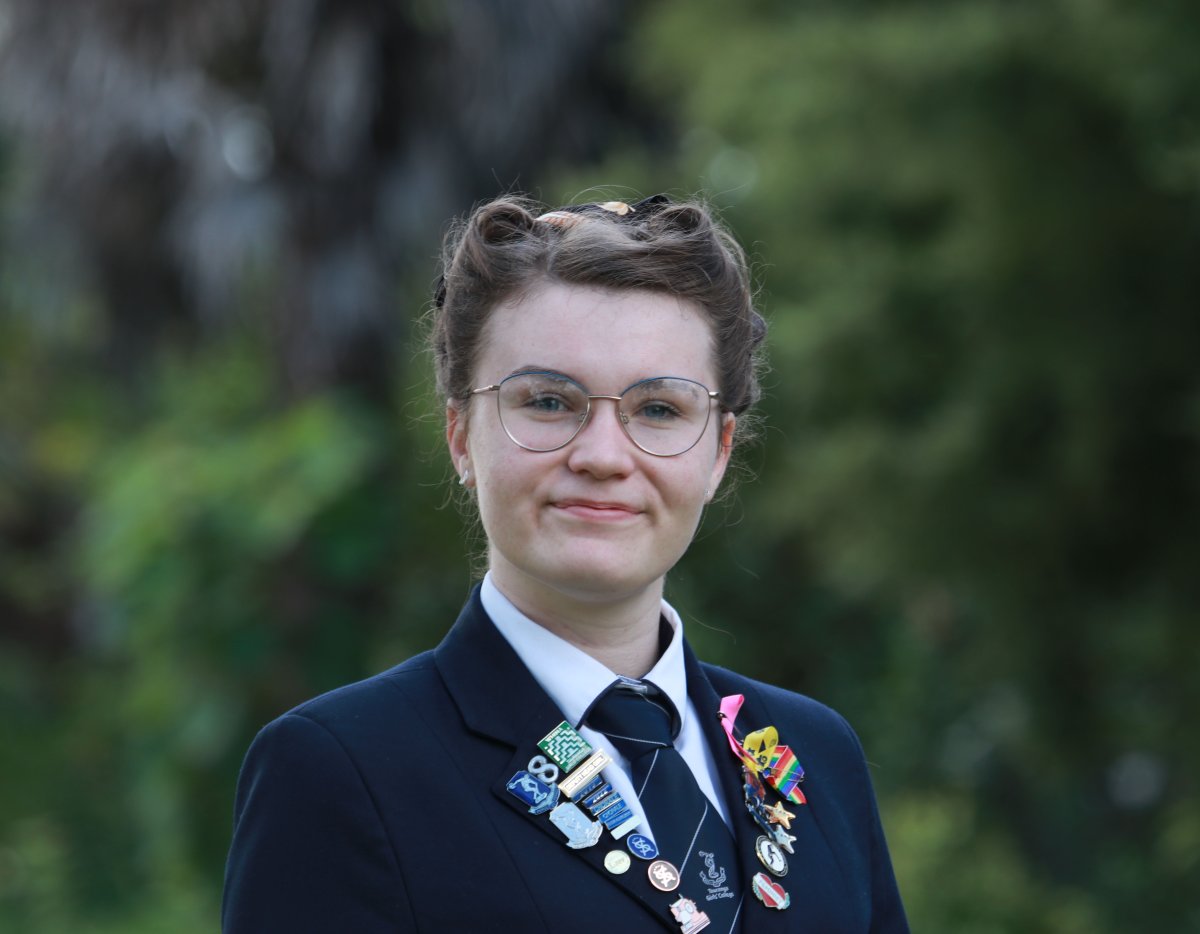 Kia ora koutou, Ko mauao te maunga, Ko waimapu te awa, Ko Sarah Smith tōku ingoa.
It is an honour to serve as the Deputy Head Prefect of Arts at Tauranga Girls' College for 2023. Throughout my time at Tauranga Girls' College, the arts have been my home and passion, so I am thrilled to represent and advocate for our Tauranga Girls' College artists in our student leadership team.
In my experience through opportunities and involvement in music, visual art, drama and textiles, I have found an overwhelming culture of love and mahi tahi which I want to encourage our ākonga to be a part of. The most valuable thing you can do is 'give it a go', and that is what I want to share with our ākonga.
In 2023 I want to create opportunities and empower Tauranga Girls' College ākonga through their passions and help them find their 'thing'. Building community in our Kura is best done through participation and interaction at all levels, so encouraging ākonga to celebrate themselves and their peers is key. Our kura has so much to offer, and I want to see as many people as possible getting involved in what they love and finding their full potential.
Nō riera tēnā koutou, tēnā koutou, tēnā koutou katoa.
Deputy HP - Sports
Honey Cooney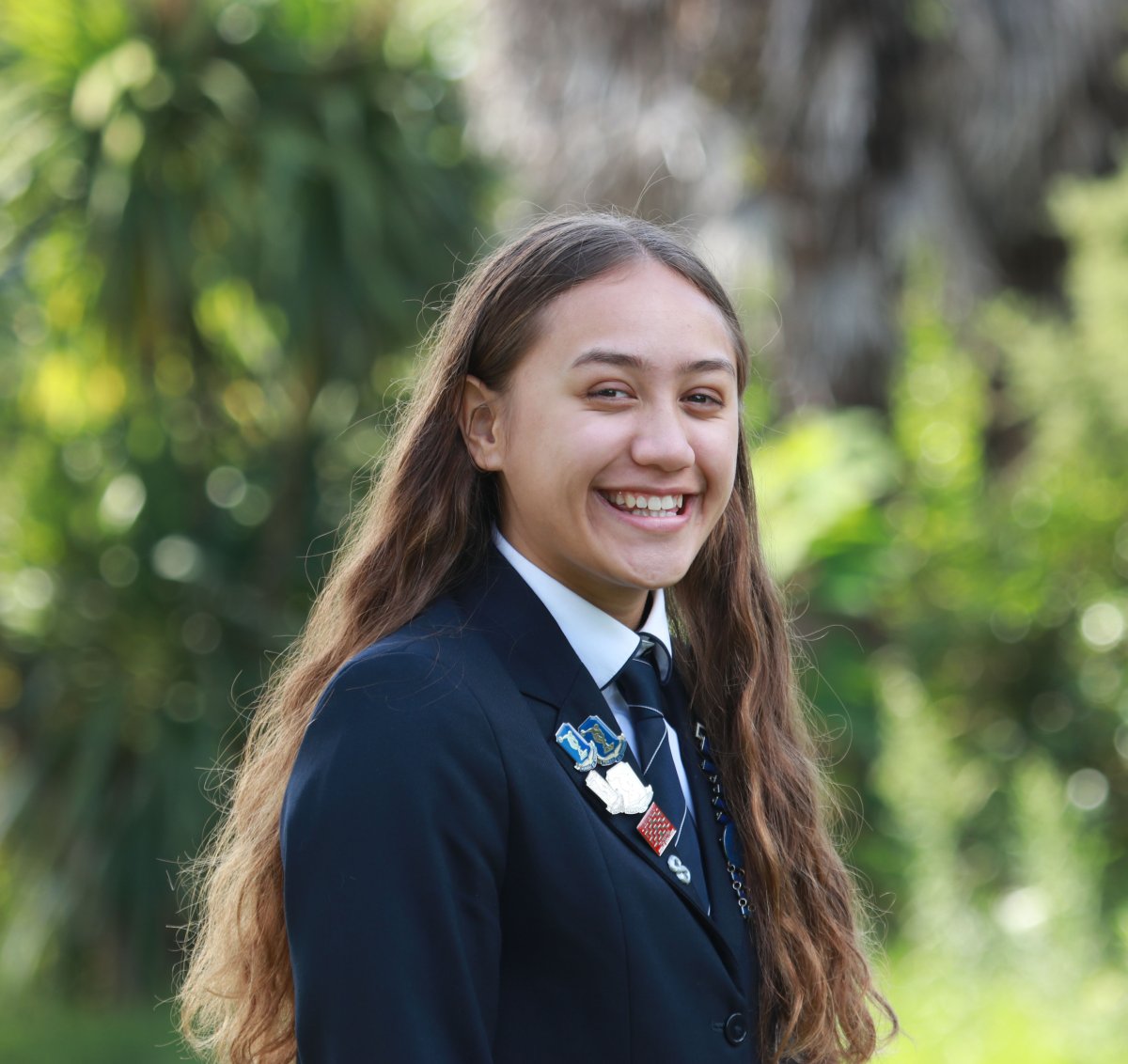 Ko Mauao te Maunga, Ko Tauranga te Moana, Ko Tākitimu te Waka, Ko Ngāti Ranginui te Iwi, Ko Pirirākau te Hapū, Ko Paparoa te Marae, Ko Cooney tōku Whānau, Ko Rangikahiwa (Honey) tōku Ingoa.
I am grateful to have the opportunity to serve as the Deputy Head Prefect of Sport for Tauranga Girls' College this year. I am excited to make an impact on the sporting community at Tauranga Girls' College while working alongside the seven deputy head prefects and my amazing sports prefects, Mia Quirke, Romy Grueger-reedy, Chloe Mcsweeny and Ella Vrieze.
My vision this year is to help students cross their lines, reach their goals and become the best version of themselves. Whether or not the students play sports, I want to make an impact and help them strive to get a step closer or potentially step over their line.
To say that I love sports would be an understatement, but being in the sporting environment here has created some fantastic core memories and lifelong friendships. For me, sports here at Tauranga Girls' College has been a personal outlet that allows me to take a break from everything else, do something that makes me happy, and surround myself with people who bring out the best in me.
In my years at Tauranga Girls' College, I have played basketball. I've learned to persevere when things get tough, be a leader in many situations, and work hard towards goals. I've also learnt how to have fun and that making mistakes is okay because that's how you grow. I hope every student can experience the same.
Deputy HP - Te Ao Māori
Maia Kahura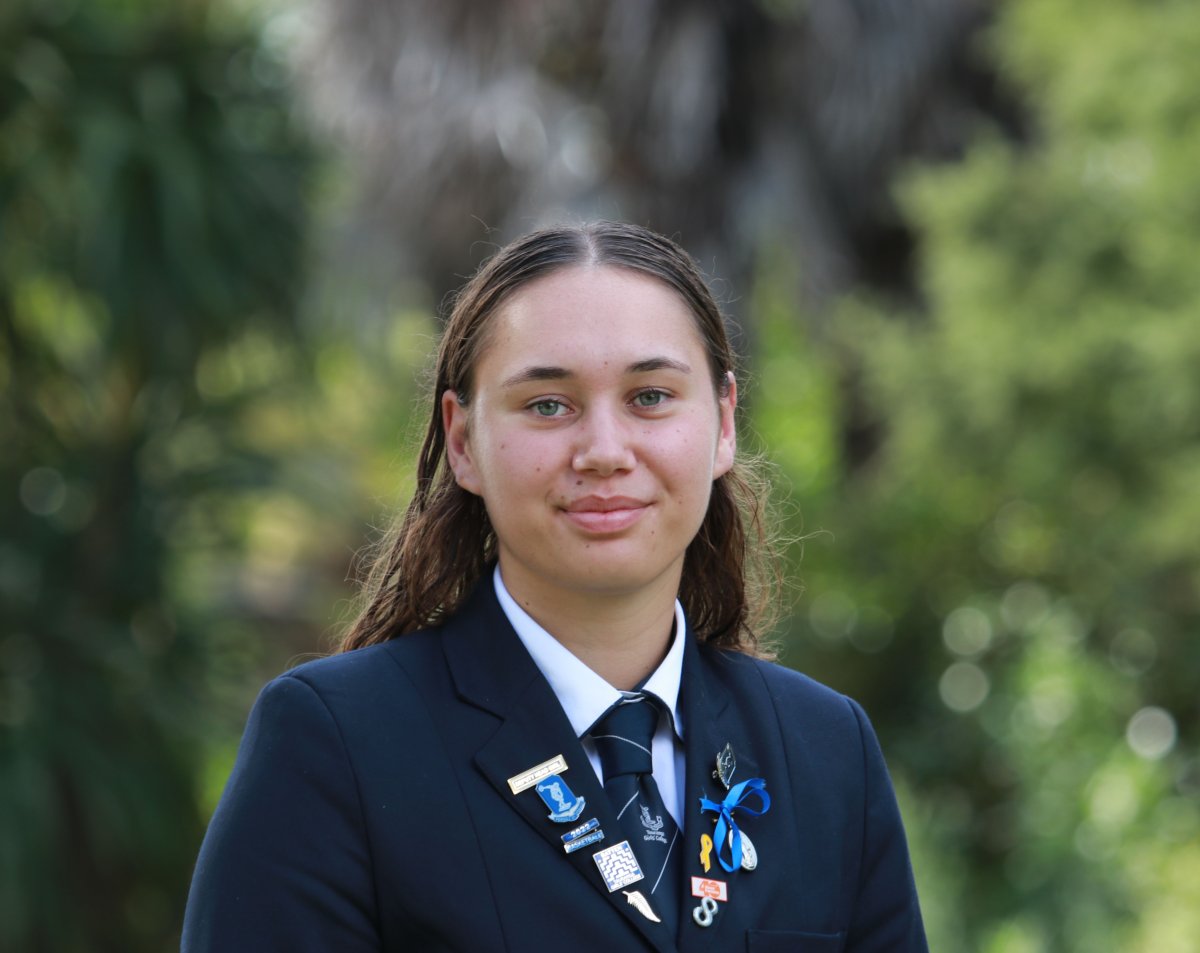 He aha te mea nui o te ao? He tangata, he tangata, he tangata. Tēnā koutou katoa, ko Maia Kahura tōku ingoa, and it is my pleasure to serve as the Tauranga Girls' College Deputy Head Prefect of Te Ao Maori for 2023.
I believe that to empower learners to make a positive impact, we must continue to build whanaungatanga and create a sense of tūrangawaewae. By building a place where students feel they belong, their achievements, academically and culturally, will improve.
Tauranga Girls' College is always looking for ways to further foster the mana of Te Ao Māori, which is showcased by introducing a new role, the Deputy Head Prefect of Te Ao Māori. I have the honour of being the first to fill it.
My mission is to uphold the values, traditions, and aspirations of Te Ao Māori and to continue building a kura that promotes and celebrates the unique culture and identity of all Māori students within the Tauranga Girls' College whānau.
Throughout my years of discovering and following my passions at Te Kura Tuarua o Ngā Tamawāhine o Tauranga Moana, I have involved myself in and been exposed to a wide range of groups and activities. Through these opportunities, I have built connections and formed relationships with teachers and students. Because of my experiences, my vision for the school's future is based around whanaungatanga and guaranteeing that everyone has a place to belong.
It is an honour to have the chance to implement my vision with this newly created role and excellent team. The Kaupapa Māori Prefects Alyssa Gardiner and Isabella Ngawaka Cowley and Te Ao Māori Prefects Jessica Ormsby and Jahnay Houkamau are the fantastic bunch of students I will be working with this year.
We will all work together as the Tauranga Girls' College Te Ao Māori team to ensure that we create a school environment that values and respects cultural diversity, fosters a sense of belonging and whanaungatanga, and promotes academic excellence for all students.
Ehara taku toa i te toa takitahi, engari he toa takitini.
Deputy HP - Diversity
Blessing Pasi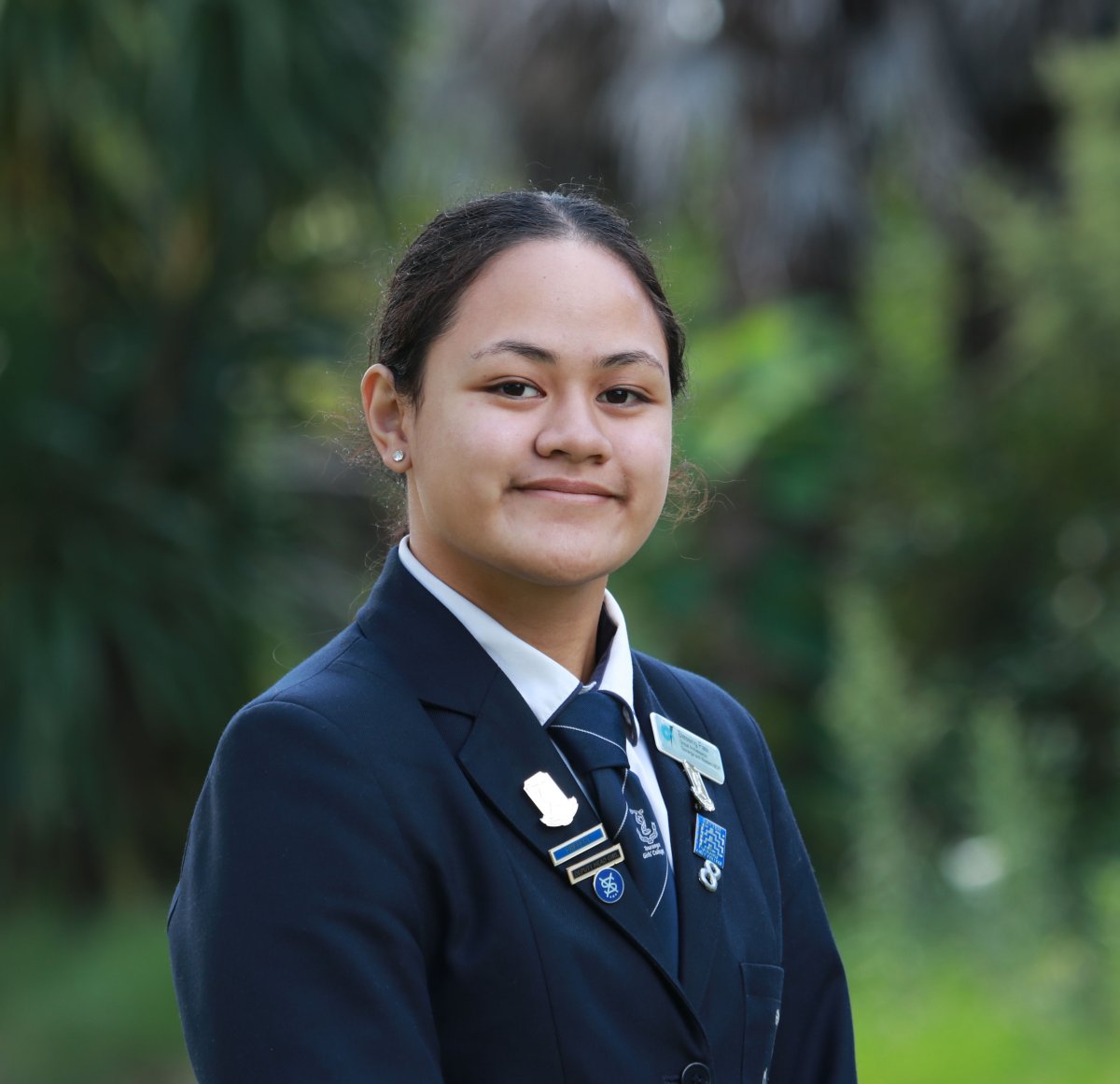 Kia Ora, Malo e lelei, Malo ni, Bula Vinaka, Mauri, Ni Hao, Annyeonghaseyo, S̄ wạs̄ dī, Konnichiwa and warm greetings to you all.
Talofa lava, o lo'u igoa o Blessing Papaiokapeta Pasi. O a'u o le tama'ita'i Samoa.
Ou te sau mai nuu o Asau, Papa Sataua, Fasitoo-uta ma Fatausi. O o'u matua o Manu ma Ana Maria Pasi. O a'u o le ulumatua o le fanau e to'alima.


Talofa lava, my name is Blessing Papaiokapeta Pasi and I am of Samoan descent. I come from the villages of Asau, Papa Sataua, Fasitoo-uta and Fatausi. My parents are Manu and Ana Maria Pasi. I am the eldest of five children.
This year I have the honour of serving our kura as Deputy Head Prefect of Cultural Diversity for 2023. It means so much to me to have to opportunity to represent Tauranga Girls' College and its core values.
To be part of a leadership team and to be supported by other strong, determined and amazing young women helps me to grow as an individual. I also have the privilege to work alongside our International Prefects, Tatum Havenga and Hayoung Kim, our School-wide Diversity Prefects, Kate Taniwha and Manu Gates and our Pasifika Perspective Prefect, Lute Takau. I am grateful for their contributions, for sharing their knowledge and for being great role models within our kura and out in the community.
My vision for this year is to create a safe space for diversity, where all cultures and abilities are celebrated, and also to acknowledge/respect the attributes of every learner that makes positive contributions to our kura.
I believe working together can make any vision work. I deeply value the relationships and am thankful for the consistent and ongoing support from the teachers and the prefects.
I have so many great memories and experiences to thrive and turn challenges into opportunities throughout these years at Tauranga Girls' College. The cultural environment provides me with a sense of belonging and helps me to develop my character in leadership and personal life goals through the support of my peers, teachers and families.
I would strongly encourage all learners at Tauranga Girls' College to embrace who they are, never give up and normalise failure and take it as a learning experience to grow from.
Fa'afetai lava.
Deputy HP - Communications & Publicity
Bree McTavish-Huriwai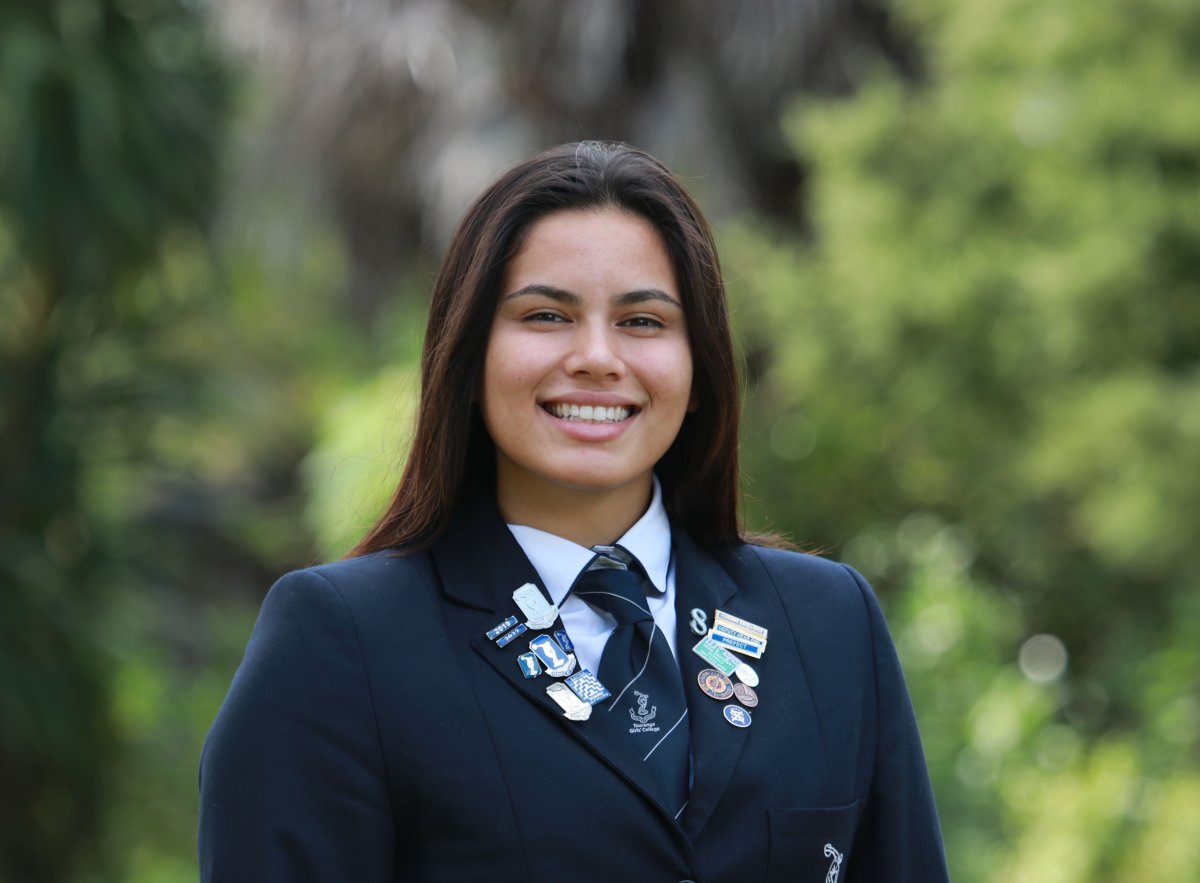 Tēnā koutou me ākonga, mātua, kaiako, me ngā hoa o tēnei kura.
Ko wai au?
Ko Maungatautari tōku maunga, Ko Waikato tōku awa,
Ko Tainui tōku iwi,
Ko Ngāti Korokī tōku hapū,
Ko Maungatautari tōku marae,
Ko Rotoiti tōku roto,
Nō Te Whanganui-a-Tara ahau,
Ko Bree McTavish-Huriwai tōku ingoa.
At the beginning of my pepeha, I asked, "Ko wai au?" Who am I? Simply put, I am a very different person from the one who started at Tauranga Girls' College in 2019 as a Year 9. Within the school's walls, I have grown exponentially. For me, it is an incredible full-circle moment - in Year 9, I looked at the leaders, wishing and hoping to be one of them one day. As one of "them," it is a grounding role that allows me to connect and thrive.
I will forever be thankful for the opportunities I have had the privilege of being a part of here at Tauranga Girls' College. Growing both inside and outside of the school environment, surrounded by my friends and teachers, has allowed me to extend my reach of knowledge and perspective.
As Deputy Head Girl of Communications and Publicity, I am given the gift of imparting knowledge to students and staff throughout our college. Like a bridge between cliques, my team and I have the power of communication. This role allows my creativity to flow through the messages in our kura. Working on advertisements and events throughout different areas of the school with the incredible leaders that make up Kaitiakiawhina, one of the biggest privileges in the role is the ability to inform and acknowledge different cultural significance and celebrations both on a national and international scale. Positively highlighting differences in our school is one of my favourite parts of this role, as you can directly see the positive impact it has on our students.
Deputy HP - School Spirit
Sara Esterman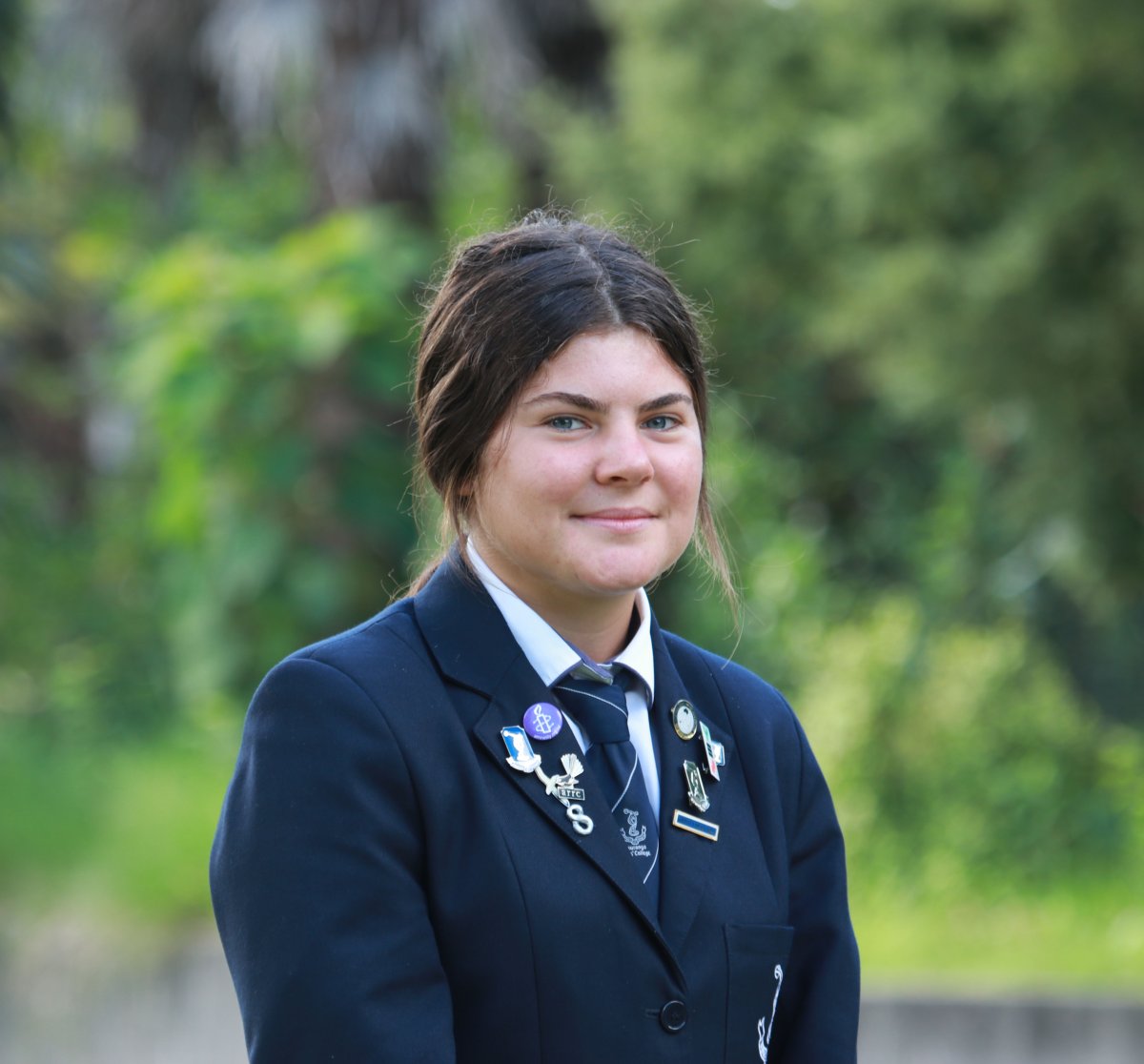 Kia Ora, Ko Mauao te maunga, Ko Wairoa te awa, Nō Tauranga ahau, Ko Tess tōku tuahine, Ko Ginny tōku māmā, Ko Esterman tōku whānau, Ko Sara tōku ingoa.
I feel privileged to be the Deputy Head Prefect of School Spirit for 2023!
Tauranga Girls' College aspires to have a positive, uplifting school spirit that helps bring our Kura together and create a sense of whanaugatanga. To help achieve this, I am honoured to work alongside the fantastic ten house prefects, the incredible Mrs Talbot, over one hundred house representatives and five staff house leaders.
My vision for this year is to see ākonga 'give it a go'. Whether you are an expert or novice, trying your best at anything is key to unlocking your full potential. One of our school values is mahi tahi; from this, I have learnt the valuable lesson to make the most of the opportunities the school has to offer. I've participated in many groups and activities (for example, hockey, chorale and knitting club) that have enriched my time at the kura, pushed me out of my comfort zone and helped me grow.
There are many fun house events and competitions which cover a range of activities, from Lipsync to Athletics to Haka and Waiata Competitions. These events are an excellent chance for our kura to get involved, gaining points for their houses while enjoying some friendly competition.
I've met many amazing passionate people along the way. Learnt new skills and discovered more about myself and my identity than I ever could have imagined. I once heard, "You miss 100% of the shots you don't take," meaning that it is important to take up every opportunity so you don't miss out on challenges to help you grow. So get involved, wear your house colours with pride and support each other. Remember, you have the whole of the Tauranga Girls' College whānau to back you up and cheer you on. So let's be brave, have courage and give everything our best. GO TGC!!!!