2022 Leaders
Head Prefect
Ella Ryan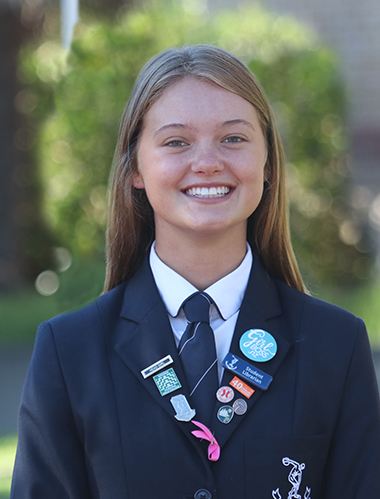 Kia ora koutou, Ko Mauao te maunga, Ko Tauranga te moana, Nō Tauranga ahua, Ko Ryan toku whanau, Ko Ella toku ingoa.
I have the privilege and honor to serve as Head Prefect for 2022. I am beyond excited for the opportunity to lead our TGC community and work alongside an incredible team of staff and students, including the six Deputy Head Girls; Sukhleen Kaur, Lily Pearce, Ella Mitchell, Molly Cachmaille, Ella Paterson and Hemorere Heke-Ririnui, as well as our awesome group of prefects.
During my time at TGC, I've been surrounded by people who inspire me everyday and have had countless opportunities that pushed me outside my comfort zone, allowing me to grow. The supportive environment encouraged me to get involved, embrace challenges, try new activities, discover and follow my passions, and become a motivated wāhine toa. I am immensely proud of our kura and want every student coming through TGC to have access to their version of this experience.
In 2022, I want to see students gain more confidence and pride in who they are, by forming a positive relationship with themselves and developing further whanaungatanga. They need to know that they will make mistakes, and these mistakes allow us to grow. I aim to be an inspiring role model who doesn't strive to be perfect, but to be real.
By working together, we can continue to create a strong sense of belonging for all members of our TGC whanau, making this school a positive environment where students feel comfortable to give things a go and as a result gain self-confidence, grow and maximize their potential.
Nō reira, tēnā koutou, tēnā koutou, tēnā koutou katoa.
Deputy Head Prefect Learning
Sukhleen Kaur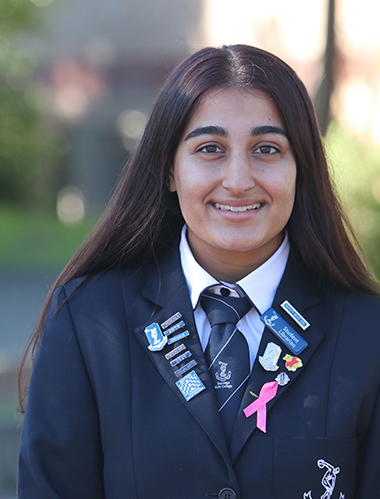 Kia ora koutou, ko Mowsbury Hill te maunga, ko River Great Ouse te awa, no Bedfordshire, England ahau, ko Kaur Toku Whānau, ko Sukhleen toku ingoa.
I am so incredibly honoured and grateful to hold the position of Deputy Head Prefect of Learning at TGC in 2022. The learning committee for 2022 consists of Poppy Wilson and Jaime Hammerich, our Student Wellbeing prefects; Jena Opie and Rose Bruning, the Community prefects; and Maia Hutton-Wells and Inaya Sinclair, our Kaitiakitanga prefects. Alongside these six wonderful women I am looking forward to helping the learning committee make a difference at TGC.
In 2022, the learning committee will aim to create an environment where students feel comfortable enough to voice their opinions. Through collaboration across the school, the team believes that new methods of learning can be implemented that cater to our entire student body. During my time at TGC I have connected with a wide variety of students from diverse backgrounds and unique experiences that have shaped the people they are today. These differences between us and the way we choose to respond to them create an ideal environment for learning within TGC, enhancing every student's school experience to best suit them. Through whanaungatanga, the learning team believes that meaningful relationships can be established between individuals and our kura's differences can be appreciated.
Education and learning is a privilege not afforded to everybody, so although our interests all lie in different places, I hope that in 2022 an overall passion for learning can be shared amongst students. Through collaboration and communication between students and leaders alike, students' school experiences can be improved and a love for learning instilled!
Nō reira tēnā rā koutou katoa
Deputy Head Prefect Sport
Molly Cachemaille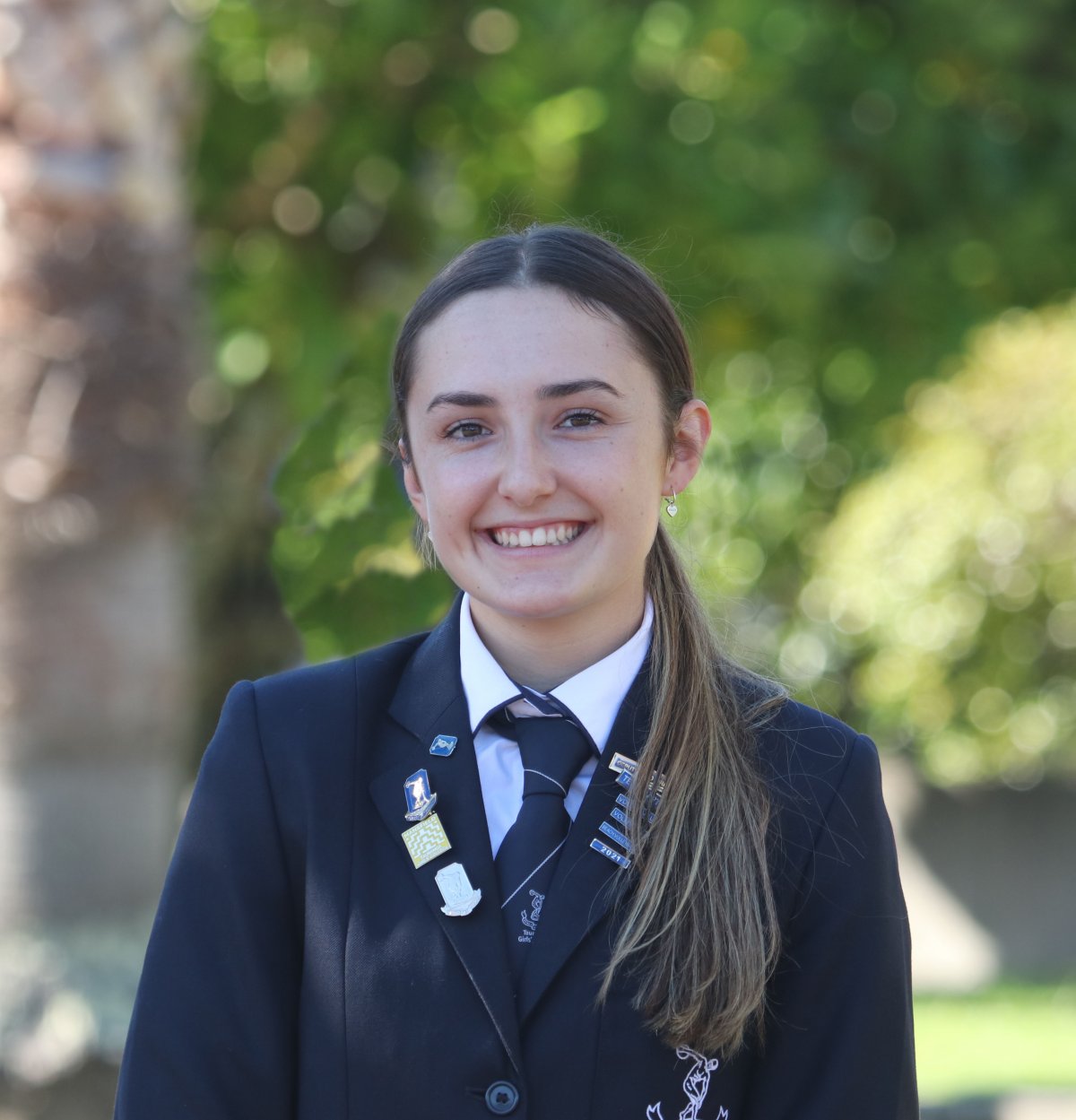 Kia ora koutou, Ko Mauao te Maunga Ko Tauranga te Moana No Tauranga ahou Ko Cachemaille toku whanau Ko Molly toku ingoa
My name is Molly and I am very honored and delighted to serve as the Deputy Head Prefect of Sport for Tauranga Girls' College during 2022. As a young girl I have always been involved in sport and believe it offers many important aspects to life. My vision is to encourage more students to participate and find enjoyment in the variety of sports our school offers that will subsequently support mental and physical well-being. I hope to further recognise students' sporting achievements at all levels to demonstrate how much value they bring to sport in our school and the importance of representing our kura with pride. My goal is to create an empowering environment that is supportive and inspires our wahine to grow in confidence.
This year I am extremely grateful to be working alongside an amazing group of girls within my team. Sports prefects for 2022 include; Rosie Kneale and Naomi Mortimer for Social Engagement along with Molly Johnson and Sarah Cummings for Athlete Development. I am excited to be working alongside these girls in a collaborative environment where we will be looking to offer a positive difference to our fellow wahine
Together We Grow.
Ka Tupu Tahi Tatou
Deputy Head Prefect Arts
Ella Paterson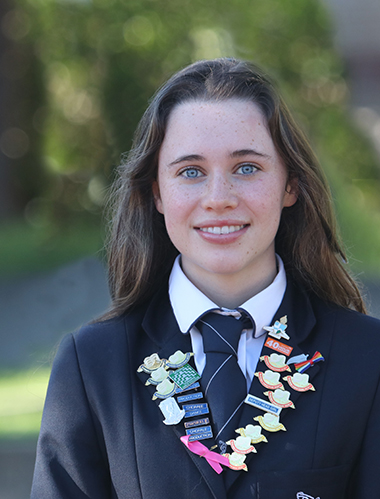 Ko Mauao te maunga, Ko Tauranga te moana, No Tauranga ahau,, Ko Paterson toku Whanau, Kia Koutou nga tauira, nga kaiako o te kura tuarua o nga tamawahine o tauranga he mihi tenei ki a koutou katoa
It is an absolute pleasure to be working alongside such a kind and hardworking team of girls as Tauranga Girls' College's Deputy Head Prefect of Arts for 2022. In our wonderful Arts Committee this year we have our Performing Arts Prefects; Talia Mackinnon, Alymayu Lema and Ajah Cameron; as well as our Visual Arts Prefects; Ruby Handley and Sarah Lee - All of whom are not only well-established artists in their chosen fields, but are also kind wahine who always look to put mahi into helping others wherever they can.
When I first arrived at TGC as a year 9, I remember feeling a wee bit daunted and nervous about the idea of "College" and what that might have in store. That was when I stumbled upon the Arts community at TGC; which gave me, amongst others, a place to call "home" and most importantly, a whanau to lean on, learn with and, more often than not, laugh with!
In 2022, The Arts' Committee aims to help other fellow wahine create that same sense of whanaungatanga within all and any artistic pursuits across all year levels, skill levels and from all walks of life; In the hopes that students can feel satisfied and proud of their mahi and how they choose express themselves, their stories and heritage; whether that be through the vessel of waita, painting, drama, design or otherwise.
Nō reira tēnā rā koutou katoa
Deputy Head Prefect Communications and Publicity
Ella Mitchell
Kia ora tātou, ko Maungakiekie te maunga, ko Manukau te awa, nō Manurewa ahau, ko Mitchell tōku whānau, ko Ella tōku ingoa.
It is an absolute privilege to be serving as Tauranga Girls' College's Deputy Head Prefect of Communications and Publicity for 2022. Communication is the backbone of all that we do at Tauranga Girls' College as we strive to build whanaungatanga and deeper connections both within our kura and our wider community.
This year, the five Communications and Publicity Prefects are Hunter Ririnui, Romy Heayns, Danielle Handley, Dana Stamenkovic and Grace Summerville. Bree McTavish-Huriwai, the Tauranga Girls' College Board of Trustees Student Representative, will also be joining the team for 2022. All of these students possess an abundance of different skills that will contribute towards communication at TGC in all of its unique forms.
Whether it be from behind a lectern, behind a camera, behind a screen or behind a good old fashioned pen and paper, the Communications and Publicity team for 2022 looks forward to showcasing the range of diverse opportunities and successes that our students enjoy at Tauranga Girls' College.
Nō reira, tēnā koutou, tēnā koutou, tēnā koutou katoa.
Deputy Head Prefect School Spirit
Lily Pearce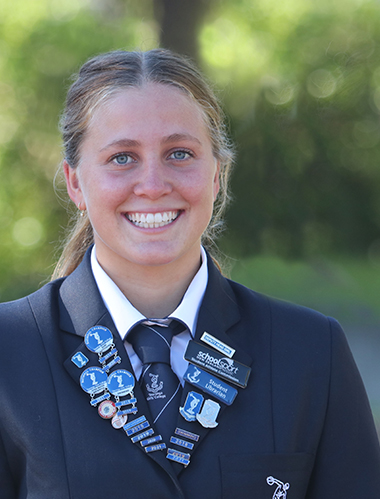 Kia Ora, ko Victoria te maunga, ko Awa Kairangi Te Awa, no Awakairangi ahau, ko Pearce toku whanau, ko Lily toku ingoa.
Hello, my name is Lily Pearce, and I am beyond grateful to be the Deputy Head Girl of House Spirit at Tauranga Girls' College. I am fortunate enough to be surrounded by a team of 10 hard working and fun-loving House Leader Prefects: Lily Knight, Salma Hassan, Mikayla Price, Jemma dos Santos, Emily Van Breda, Lucy Crawford, Ruby Walford, Tiarna Allen, Sophie Summerville and Katie Hills.
As a team, we are responsible for organising events that give students the opportunity to gain house points in a range of different ways. It's always competitive here at TGC, but always good fun. A healthy balance is what we are all about.
For me, TGC has always made me feel at home, due to the fact that it provides me with the opportunity to have a balance in all facets of life. I have always felt that no matter what I chose to do when I'm not in class, whether that be attending extra science tutorials, or getting amongst the lip synch competition, it is so much more beneficial than being too nervous to get out of my comfort zone. I have learnt that it is those that insert themselves into as many areas of school life that benefit the most.
Hence, in 2022, I hope to see as many students as possible take on the endless opportunities at TGC. I advocate for people to throw themselves in the deep end and try something new! Nothing substitutes experience.
Deputy Head Prefect Cultural Diversity
Hemorere Heke-Ririnui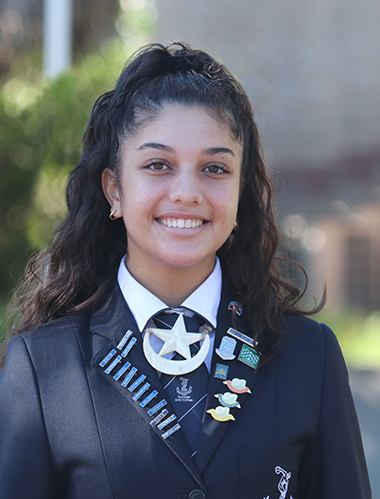 "Inā aro atu ana te oranga ki ngā mea pai ka rere te wairua ka taea ngā mea katoa" tēnā koutou katoa, ko Hemorere Heke-Ririnui tōku ingoa, he uri nō te moana nei and it is my pleasure to serve as the Tauranga Girl's College deputy head girl of cultural diversity for 2022.
I believe that the key to finding success in school is to ensure that one feels they are in a safe environment. With a comfortable zone we are able to perform at the best of our abilities rather than being restricted to the traditional school setting which was mainly based around one group that didn't/doesn't cater for all.
Change has been a long time coming and change is currently happening. As TGC's deputy head girl of cultural diversity, I will make it my mission to help make that change to be one of positive experiences, of open and safe shifts for all.
Throughout my years of discovering and following my passions at Te Kura Tuarua o Ngā Tamawahine o Tauranga Moana, I have been exposed to a variety of characters and groups which has allowed me to become more empathetic towards a wider collective. Due to the exposure, my vision for the school's future is based around inclusivity and expression of one's individuality.
It is an honour to be presented with an opportunity to bring upon my vision through my newly appointed role and team of prefects. The awesome group of students that I will be working with this year are the Kaupapa Māori Prefects Kennedy deBono and Maraea Puru, the Pasifika Perspective Prefects Blessing Papi and Swastika Singh, and the International Prefects Jayzel Borlaza and Sunny Chung. Together we will all work collectively as the TGC cultural team to ensure that we are able to achieve a safe bubble where students feel comfortable to express and share their uniqueness not only within, but also outside of school.