Yarn Bombers
Interested in Yarn Bombing? No knitting experience or talent required...we'll teach you! Come along to A7 every Monday and Friday lunchtime and get creative with us! Everyone and anyone welcome. See you there. The yarn bombers club is a great way to meet new people and learn something new. Sometimes some girls put on a movie, or music, or just sit and chat.
You don't need experience, any abilities, or knitting needles/wool. It's all there waiting!
Is there a cost? No cost whatsoever.
Teacher in charge - Mrs Valentine
See Mrs Valentine in A7 or just come along on Monday or Friday lunchtime.
Student Librarians
Students who show interest at the start of the year are trained to be student Librarians.
Are you a book worm? Do you enjoy learning about systems? If you are, talk to Ms Middleton about becoming a student librarian next year. Student librarians are trained at the start of the year and can be from any year level.

Teacher in charge- Ms Middleton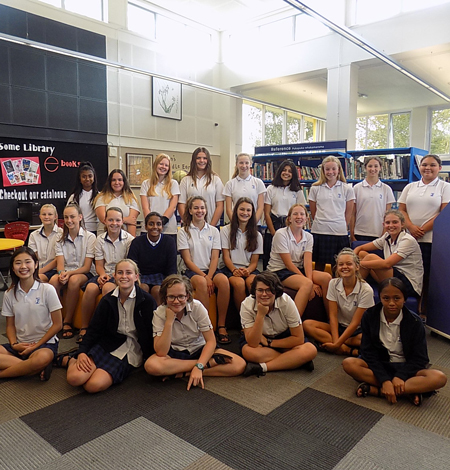 World Vision
When: 40-hour famine: 5-7 June
Anyone can participate in the 40-hour famine.
The World Vision Committee is a group of passionate Year 12 and 13's who have been selected after being successful with their application.
The World Vision Committee encourages and inspires students to raise funds to support the children in Malawi and Southern Africa impacted by extreme weather events, through participating in the 40 Hour Famine. Whether this is giving up food, phone, TV, or getting creative and thinking of a new idea, we encourage everyone to get involved. We also organise alternative events whereby students can donate or fundraise for this cause.
Teacher in Charge - Mrs Nemeth
SADD
When: E block Tuesday lunch.
Who: Any age.
Come to the next advertised meeting. Be part of a national organisation designed to help young people to be more aware of the dangers when driving and improve their own driving skills. This group is active in promoting activities within the school, attending regional and national conferences, speaking at assemblies and enjoying time together.
Teacher in Charge - Mrs Bell
TGC Youth Group
When: Wednesday lunchtime E block board room at the back of E1.
Who: All ages, bring yourself and friends.

We organise school-wide events as well as getting together with other like-minded students, asking questions and sharing thoughts and ideas. We spread love and compassion to the wider school community to raise the awareness that every individual has a purpose and the potential to help make the world a better place through what they believe. Faith can move mountains and we encourage students to use their values to make the most of life. We also provide cookies.
Teacher in charge - Mrs Nemeth / Mrs Bell
Chess
When: Inter- school Competitions. Various dates advertised through notices.
Who: All welcome to enter competitions.
Interested in chess? Join our Chess club at TGC. We get to meet other chess players from different schools and play against them in the inter-school competitions.
Life is like a chess game, you don't want to waste a move. Talk to Mrs Nemeth about joining.
Cost: Approx $5
Teacher in Charge - Mrs Nemeth